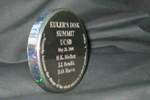 Custom Orders
....Out of Stock..Please Use Toysmith on Amazon..... Custom and Regular orders include an Euler's disk, a mirror base, 3 holographic magnets, instructions, notes from the inventor (.pdf) and some coin experiments.
---
USA
If you would like > 3 Euler's Disks, please email here, so we can point you in the right direction.
:

<
---
Outside the USA
If you are anywhere else in the world, and you would like to order an Euler's Disk, send us an email and we will help you.
*Euler's Disk is for ages 10 and up.